Tuesday, January 3, 2012
Posted by Richard Chao in "Digital Home News" @ 05:22 PM
"Most people have tons of digital photos on their PC scattered around - and Windows Live Photo Gallery makes it super easy to manage those photos, edit them, and then share them out to anyone you want."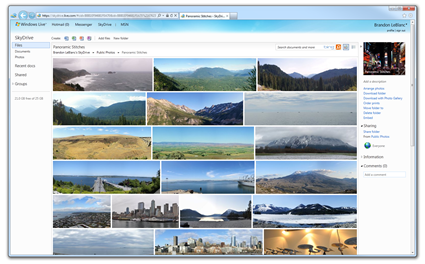 Microsoft's windowsteamblog's Brandon LeBlanc has just posted his tips on managing and sharing photos. He starts with organizing your photo collection to panoramic stitching and finally to sharing. What interests me the most is panoramic stitching. To view samples of panoramic stitches, take a look at Brandon's panoramic stitch gallery here. Panoramic stitches gives your audience a greater sense of being there.
If you have panoramic stitches and would like to share them, post links in the comments.
---