Monday, August 20, 2012
Posted by Richard Chao in "Digital Home Hardware & Accessories" @ 10:20 PM
"Picking the best keyboard for your needs is tough-everyone will have different opinions once they get their fingers on the keys, but there are definitely a few models that stand out above the rest, and plenty that are probably better than the ones that came with your computer."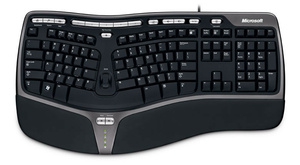 Recently, LifeHacker asked its readers to vote on their favorite keyboards. Lifehacker then pulled out the top five keyboards from the list of 600 nominations. The resulting list is comprised of a wide variety of styles. From the thin and light Apple wireless keyboard to the mechanical DAS keyboard. The top five favorites are listed as: Apple wireless keyboard, Microsoft 4000 series, Logitech G series, DAS keyboard and Logitech K series.
Hit the read link to see the readers' reasoning behind their nominations.
---