Wednesday, August 31, 2011
Posted by Jeff Campbell in "Apple Software (iPhone/iPod Touch/iPad)" @ 10:40 AM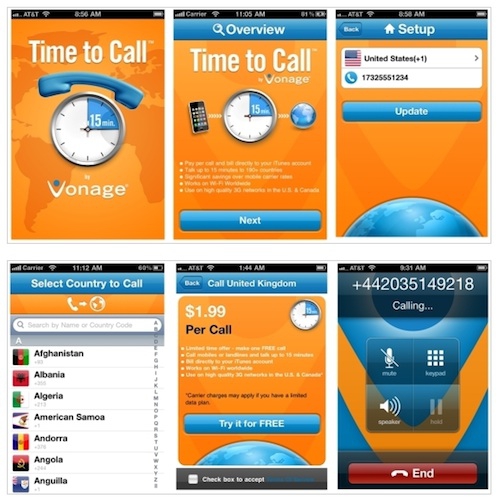 Time to Call is a free app from Vonage, that lets you make phone calls (including international calls) from your iPhone or iPad 2 at very affordable rates. And as a bonus, they are giving you 15 minutes of calling time when you download the app using this link. The cool thing about this app is that it uses your iTunes account to pay for the minutes, so you don't have to mess around with calling cards or getting an operator involved. All you do is make the call and it will subtract the charges direct from your iTunes account. The rates are pretty reasonable too as outlined in the details below:
Pay per call and talk up to 15 minutes to 100 countries for $1.99 or less (not including taxes)
For an additional 90+ countries, talk up to 15 minutes for $2.99 to $9.99 (not including taxes)
Works on WiFi internationally, 3G in the US and Canada
FREE download - No need to be a Vonage home customer
LIMITED TIME OFFER: Download now and call up to 15 minutes for FREE.
If you go to the Vonage site, you can easily find out how much your 15 minutes of calling time will be as it is based on the country you are calling. Simply select the country from the drop down list and it gives you the cost in US Dollars. Pretty simple. For example, calling Argentina will set you back $1.99 USD for 15 minutes of calling time, of course that is not including the 15 free minutes you get just for downloading the app. And make sure to read on to find out how to win an iPad 2 from Vonage as part of their promotion for the new app.
---