Thursday, March 31, 2011
Posted by Jason Dunn in "Digital Home News" @ 04:30 PM
"Backing up your computer is important enough that you shouldn't need a day dedicated to it, or a collection of deals on online backup services and hard drives, but that is exactly what today is. March 31 is World Backup Day 2011, which should serve as a reminder to backup your computer, smartphone, iPad and even the hard copy pictures and documents you have around the house."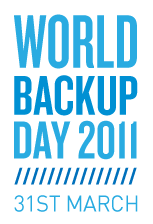 I'm not entirely sure who decided today was World Backup Day - oh, looks like a few people from Reddit - but it's a great idea! People simply don't pay enough attention to the importance of backing up their data. Notebooks.com has a great collection of resources for the tools and services required for having a solid backup plan. Well worth the read!
I'm personally using Crashplan for my off-site backups now - what with Mozy jacking up my rates by 1309% and all - and a combination of a Windows Home Server, Windows Live Mesh, and a 2 TB external drive keep my data secure. How do you protect your precious data? Better yet, how do you protect the precious data of friends and family who don't know any better?
UPDATE: Yes, it's two World Backup Day posts in a row...what can I say, I really want you to all be backing up! :-)
---