Thursday, September 13, 2007
Posted by Jason Dunn in "HARDWARE" @ 07:00 AM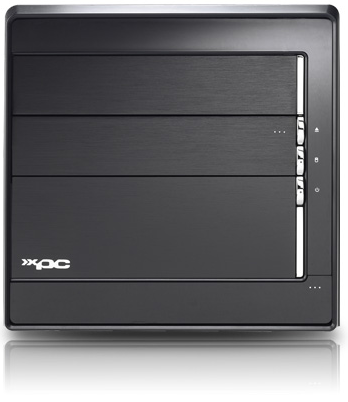 Product Category: Barebones computer (XPC)
Where to Buy: NewEgg
Price: $371.71 USD
System Requirements: The SD39P2 is a case, motherboard, and power supply. You need to add a CPU, RAM, hard drive, optical drive, and video card.
Specifications: 325(L) x 210(W) x 220(H) mm in size. 400 watt power supply, Intel 975X + ICH7R chipset, 4 x 240 pin DDR2 DIMM Slots, 2GB per DIMM (Max 8GB), Dual Channel DDR2 533/667/800 with ECC supported. Full specifications on the Shuttle product page.
Pros:
Superb industrial design - it looks fantastic;
Four slots for RAM, up to 8 GB supported;
Eight USB ports, three hard drive bays, one e-SATA port - it's loaded.
Cons:
No memory card reader included;
RAID setup a frustrating mess;
Not exactly quiet compared to some computers.
Summary: My goal was to create a powerful small form-factor media editing machine, primarily used in editing RAW photos and high-definition video footage. I used the latest and greatest Shuttle - the SD39P2 XPC - when I started this project, combined it with the best that Intel, Kingston, and Western Digital had to offer, and ended up with a screamer of a machine. Read more...
---