Tuesday, July 6, 2010
Posted by Jason Dunn in "Laptop Thoughts Accessories" @ 07:00 AM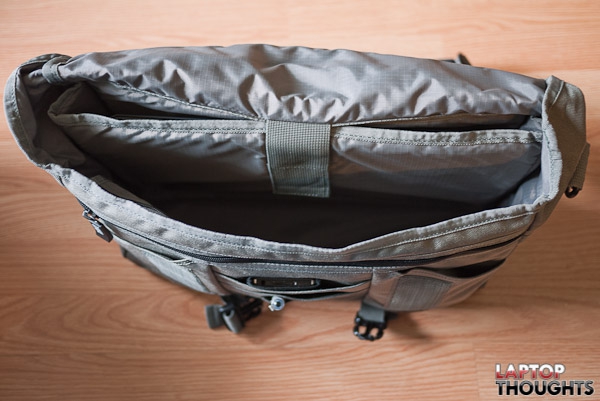 Figure 16: The Tenba bag with the DSLR segment removed; the laptop pouch is held closed by a Velcro strap.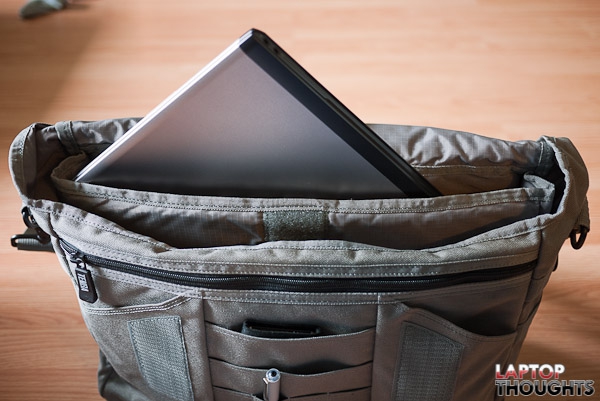 Figure 17: I carried my Dell Vostro V13 with me; it fit very easily because it's an extremely thin laptop at only 0.78 inches thick.
Herein lies one of the potential issues with this bag; it seems to have been designed for fairly thin laptops. The creators likely had Macbooks in mind, and in fact that's what they use in their demo videos. Given the popularity of Macs with professional photographers, it's not an unusual expectation. Tenba says a laptop up to 14.75 inches by 10.5 inches by 2 inches will fit. When I tried putting my 13.3 inch screen Dell XPS M1330 in it, which is a fairly slender wedge-shaped laptop that bulks out at the end with the 9-cell battery on it, it didn't work so well. The extra thickness made it hard to easily fit the DSLR segment back in the bag; obviously, this will vary depending on the sizes of the lenses and DSLR body you have in the camera segment. In general, only relatively thin laptops without extended batteries need apply here. Tenba says laptops with up to 15 inch screens will fit; if you need something bigger, you'll want to look at the Large Messenger Photo Bag, which holds 15.75 inches by 11.25 inches by 2 inches.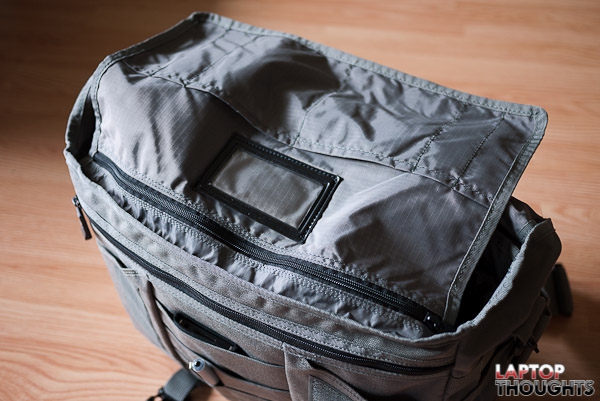 Figure 18: There's a document pouch of sorts - basically a flap - that's inside the front section.
The pouch rests against the front of the DSLR segment, and I didn't even know it was there until I started taking pictures of the bag. It has a zippered top, a business card holder, two large pouches, and four more pen-sized pouches. Again, none of them are elasticized, so when you lift the flap out to see what's in the pouches, things can fall out. In my opinion, this entire pouch is a waste of space. It's hidden so well, it's doubtful anyone would discover it to find your business card if your bag was misplaced - the inside of the main flap is a far better place for it. The four extra pen-sized pouches are equally wasteful, and because the back of the bag has a magazine/document-sized pouch, I'm unsure what you'd use the main storage area on this pouch for.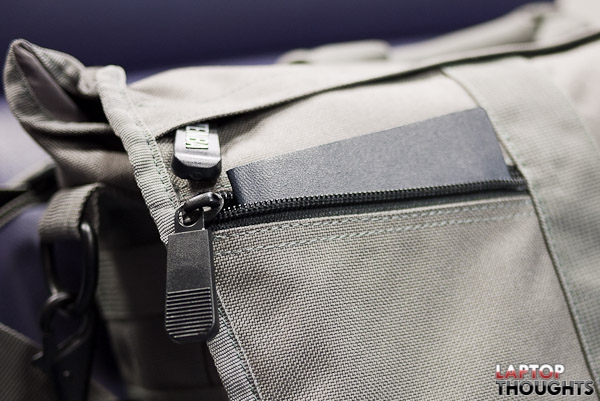 Figure 19: If it were just a bit deeper...
I travel via airplane three to five times a year, so having a bag that's optimized for travel is very important to me. Having my passport and airline boarding pass within easy reach is critical to me, and the Tenba Small Messenger Photo bag fails big time here...as you can see, the front pouches - the most readily accessible on the whole bag - can't fit a passport. Not good!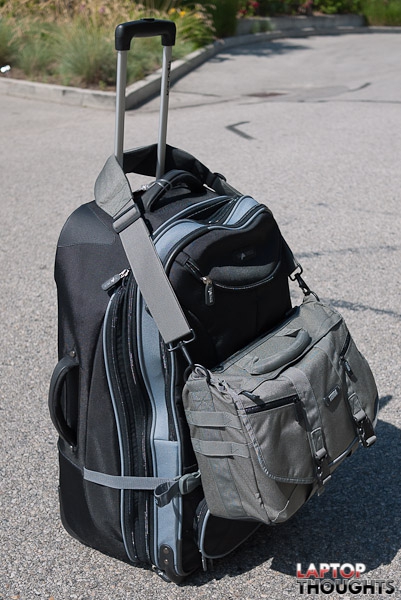 Figure 20: The best I could manage...
Another thing about this bag that's anti-travel friendly is the fact that it lacks a rear strap to attach it to a larger bag. This is a fairly standard addition to any bag meant for travelling, so its omission was noticeable. In the photo above, that was how I carried it for most of the trip - it was a rare instance I was able to balance it like that. The weight of the Tenba bag would typically cause my bigger bag to tip forward.
On the plus side the bottom of the bag has an "abrasion and water-resistant material" according to Tenba - meaning that if you put the bag down on a wet surface, the water won't seep through to your camera wet. Nice touch! The bag is also fairly well-balanced; when it was loaded up with my camera gear, most of the time it stayed vertical. It helps to put the heaviest lenses near the middle, and the lighter lenses on the outer edges.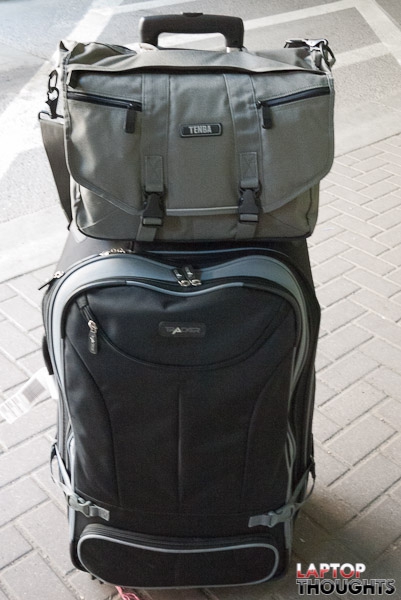 Figure 21: If it had a proper luggage attachment strap, this is ideally how it would be carried on top larger, rolling luggage.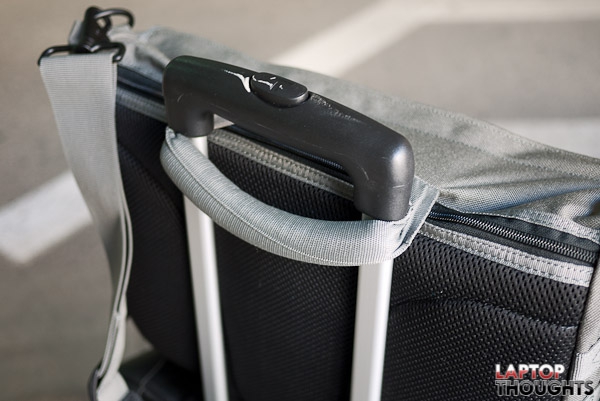 Figure 22: At the end of my trip, while waiting for the bus to pick us up and take us to our car, I managed to jam the Tenba bag strap over my luggage handle. It worked, but it was a tight fit.
So all in all, how would I rate the Tenba Small Messenger Photo bag? It's a well-designed bag made of top-notch materials and the superior construction is evident. The basic concept is brilliant, and while there are a few minor changes I'd want to make to the pouches and pockets to make it more usable, this is certainly a bag I'd be willing to travel with again. Tenba is really on to something here, and with a little refinement, this could be the best laptop/DSLR combo bag on the market today. As it stands now, it's a bag that's well worth your money if you're someone who needs to carry a DSLR and a laptop or netbook at the same time. I highly recommend it.
Jason Dunn owns and operates Thoughts Media Inc., a company dedicated to creating the best in online communities. He enjoys photography, mobile devices, blogging, digital media content creation/editing, and pretty much all technology. He lives in Calgary, Alberta, Canada with his lovely wife, his wonderful son, and his mostly obedient dog. He likes bags. Maybe a little too much.

Do you enjoy using new hardware, software and accessories, then sharing your experience with others? Then join us on the Thoughts Media Review Team! We're looking for individuals who find it fun to test new gear and give their honest opinions about the experience. It's a volunteer role with some great perks. Interested? Then click here for more information.

---