Wednesday, September 16, 2009
Posted by David Tucker in "Zune Accessories" @ 09:00 AM
From Digital Bits To Audio Bliss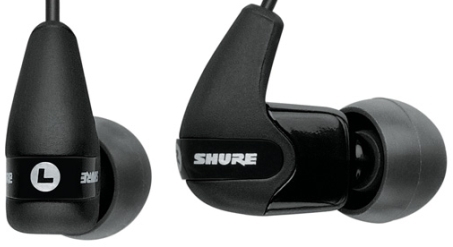 The SE210 uses a type of driver called balanced armature. Balanced armatures are excellent when it comes to tight sound reproduction. To be used properly, though, you have to have a tight seal or it will sound awful. But when you achieve that seal you'll hopefully experience two things. The first is a rich, detailed listening experience. The other thing you'll discover is that you have been entirely shut out from the world. Active noise cancellation has nothing on passive sound isolation like this. You won't just dampen outside noises...they will practically vanish.
This has the benefit of allowing you to listen to your music at much lower volumes than you are probably used to. I've always been someone to listen to music around volume setting 3 on my Zune anyway but now I can listen at the lowest settings and not lose any clarity. Since we're listening to music for much longer periods than ever before, safety is important and these earphones will help ensure that I will be enjoying my music for many more years to come.
I'm not going to bother beating around the bush: the SE210s sound really good. They are, by far, the best earphones I've ever had. I compared them to the Zune Premium ear buds and there just wasn't any contest. The Zune Premiums sounded thin and bright compared to the deep sound I get from the SE210s. I can't emphasize enough though the importance of wearing these properly. A tight seal is the difference between a tin can radio and feeling like you're at the concert.
I used several different tracks off of my "Ghost in the Shell" soundtracks to test the sound reproduction of these earphones since those songs all have a lot of great instrumentals and really let me test a pretty wide range of sounds. "Inner Universe" has a lot going on but the vocals and highs came through very crisp all while the deep beats were thumping in the background.
Of course I mostly listen to rock so I had to test the earphones with some of my favorite artists. I really like Third Eye Blind and their song "Non Dairy Creamer" off of their "Red Star" album has a good bass drum beat in the background. I could really feel the beat of the drum and the bass guitar also came through really well. Again the bass really made itself felt and known without overpowering the rest of the song. The vocals and lead guitar still came through perfectly. Towards the end of the song there is a section with violins that really shines.
Everything I threw at these earphones sounded great. After using them for two weeks now I've listened to everything from Metallica to Dave Matthews. I haven't found the sound to be lacking in any of the genres I've listened to. The sound is just very well tuned for today's listening experience. That means these phones favor the bass range a little but they are definitely not overwhelming and do it without much sacrifice of the higher ranges.
Conclusion
If you need to blow your ears out with bass you can probably buy a much cheaper pair of earphones. But if you want to hear your music how it was meant to sound and hear things you've never heard before, the SE210s are outstanding. Deep lows and crisp highs all contribute to an enjoyable listening experience.
Despite these phones being significantly more expensive than most of the other options out there, the SE210s are a very good price for high end earphones. You get a pair of earphones that will blow away your ears without blowing away your wallet. So go treat your ears to this outstanding pair of earphones and you'll start enjoying music on an entirely different level!
David Tucker is a software developer who lives in Tampa, FL. His hobbies include all things technology with a healthy bias towards Microsoft products. Since the fall is here you'll often find him traveling to Gainesville or hosting a game day party to support the Gator football team.
---