Wednesday, February 8, 2012
Posted by Lee Yuan Sheng in "Digital Home Software" @ 07:00 AM
In fairness to Oloneo, they have acknowledged these weak areas and have called for users to submit images with ghosting and alignment problems, and are working on improving the engine.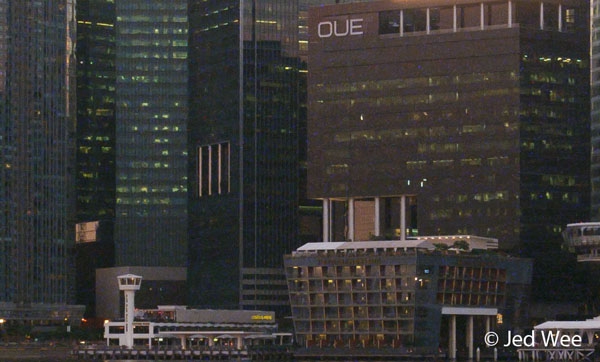 Figures 19 and 20: It must be emphasised that this was a stress test, and this isn't a problem that you should encounter often if at all at low ISOs, although it can be a problem at higher ISOs. The top photo is a crop from the shadow area of the brightest portion of a 3 frame bracket shot at the APS-C camera's base ISO, processed with Adobe Camera Raw with moderate noise reduction. Below is the tone mapped section from PhotoEngine, exhibiting noticeably greater chroma noise.
The software also currently lacks any form of active noise reduction controls, whether as a Raw processor or when tone mapping. Because of the strength of its Raw conversion, it is preferable to use the Raw files when working with PhotoEngine, but this becomes difficult with images shot at high ISOs or with underexposed sequences. Results can exhibit chroma noise that is rarely a problem with reasonable noise reduction processing. This is not an uncommon problem with HDR software, with many failing to offer noise reduction options. It was, for example, only introduced in the latest version of Photomatix, with little customisability.
And finally, this isn't a negative as much as a suggestion, but the software could really benefit from a "last image settings" preset!
Conclusion
At US$149, PhotoEngine is not the cheapest HDR software available, with many competitors coming in at as little as a third of the price. Indeed there are even free options available. Arguably the most popular software for HDR editing today is Photomatix, and that retails at US$99. So is PhotoEngine worth the price premium?
Absolutely. As part of the process of the review, old HDR projects were reworked within PhotoEngine, and the difference was impressive. It was easy to obtain absolutely natural images, while also possible to provide more punch and drama. Getting to those results was intuitive and rapid and very hands on. PhotoEngine even proved very useful for light tone mapping of single images as an advanced Raw converter.


Figures 21 and 22: Revisiting old HDR projects was a joy. On the top is the best version previously saved (note the haloing), on the bottom is the version produced by PhotoEngine.
Many photographers avoid HDR because of notions that it is difficult if not impossible to obtain natural looking results free from garish effects. If you are one of these then PhotoEngine might well be your solution. If you like your halos and over the top colours, then PhotoEngine also has much to offer you by way of its speed and visual presentation.
There are undeniably minor teething issues, but for a software still in version 1.0.x of its release, there is hope that these will be dealt with and that software will continue to evolve. These fail to take the overall gloss of what is, in this reviewer's opinion, comfortably the best HDR software currently available on the market.
Jed Wee is Singapore's top sports photojournalist, and has been photographing professionally for over a decade. During this time, he has captured images of the world's top athletes at the highest level of competition across various sports. He is also a versatile artist, having photographed a variety of genres, including wildlife, landscape, architectural and portraiture. His latest endeavour sees him recording the memories of the biggest day in most people's lives, and can be seen at http://www.essenceofthemoment.co.uk/. Jed currently lives in Durham, United Kingdom, with a very cute but grouchy cat.

Do you enjoy using new hardware, software and accessories, then sharing your experience with others? Then join us on the Thoughts Media Review Team! We're looking for individuals who find it fun to test new gear and give their honest opinions about the experience. It's a volunteer role with some great perks. Interested? Then click here for more information.

---