Wednesday, February 8, 2012
Posted by Lee Yuan Sheng in "Digital Home Software" @ 07:00 AM
Another eye catching feature of PhotoEngine is the presence of a Natural HDR Mode check box. This technology is built in to PhotoEngine and even when not checked as "Enabled", is still partially running in the conversion engine. One of the big problems with some tone mapping results is that they sometimes carry too much saturation, particularly in the primary colours. Green grass for example can sometimes look almost radioactive. While PhotoEngine generally keeps results looking natural by default, in certain instances you might wish to further rein in the saturation, and the Natural HDR Mode employs a mix of "sophisticated algorithms and empirical corrections" to yield an even more natural result. Unlike a saturation slider, which the software also offers, the Natural HDR mode is not a global adjustment and will not affect sections of the image it deems to be "natural". It works well, but care should be exercised if you have areas of correctly high saturation in the frame - neon lights for example, as these can become unusually flat.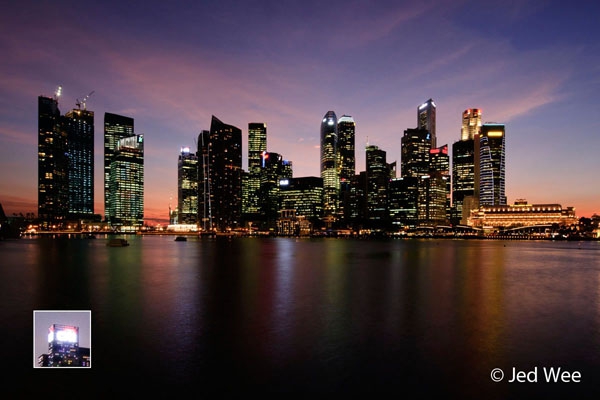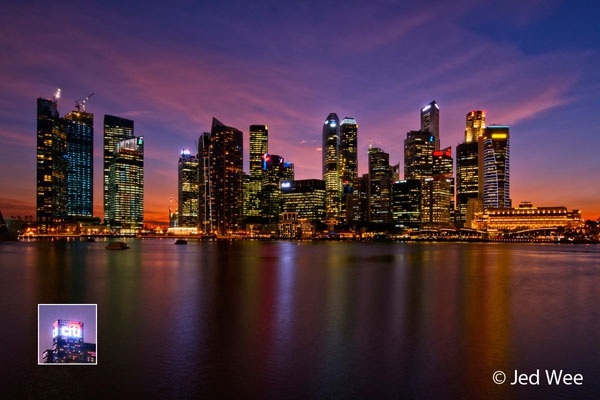 Figures 15 and 16: On the top is the middle image from a 5 exposure bracket, processed in Adobe Camera Raw with auto Camera Vivid settings. The image below is the result following tone mapping of the sequence in PhotoEngine. The inset shows the detail retention provided in the highlight areas provided by the use of HDR, which PhotoEngine has retained. Any excessive saturation is down to user preference or error, depending on your viewpoint!
Halo control is also excellent with generally little propensity to develop halos as long as you maintain the relative luminance of the image. In other words, you can generally greatly equalise a scene of high dynamic range without developing halos, as long as you don't try to make a darker part of the scene brighter than a naturally lighter part of the scene. You have further control of detail haloing by activating the Advanced Local Tone Mapping mode, which gives you access to the Detail Size and Detail Threshold settings. These equate very roughly with the radius and threshold settings that you may already be familiar with within Photoshop Unsharp Mask settings for example, and are extremely useful to have.
Of course, should your goal be images with over the top saturation and halos, then PhotoEngine is perfectly able to provide that as well!
In Use - The Negatives
The software is still in its relative infancy so there are at present some minor issues that will hopefully get resolved as the software matures.
Some of these are interface related, so for example the lack of thumbnail caching, as alluded to above, is a feature that could be added that the software would benefit from. Another is that the software currently doesn't remember window size or position from a previous session. Not deal breakers on their own but not up to the very high standards set in the image processing side of the software.
The odd bug exists but in general the software in stable and reliable. For example occasionally the white balance dropper activates when viewing the image at full screen, which is awkward because clicking to navigate around your image suddenly sets the white balance as well.
In terms of image quality issues, there are a couple to mention. While it will process fantastic images from shots taken on a tripod of a stationary subject, the software does have occasional problems with its auto alignment feature for handheld sequences. Its ghost reduction component (for objects that move from one frame to the next) is also not as strong as some others. For example some users with ghosting or alignment issues have taken to producing 32 bit HDR files with Photomatix, which currently does a better job at both, and then tone mapping those files with PhotoEngine.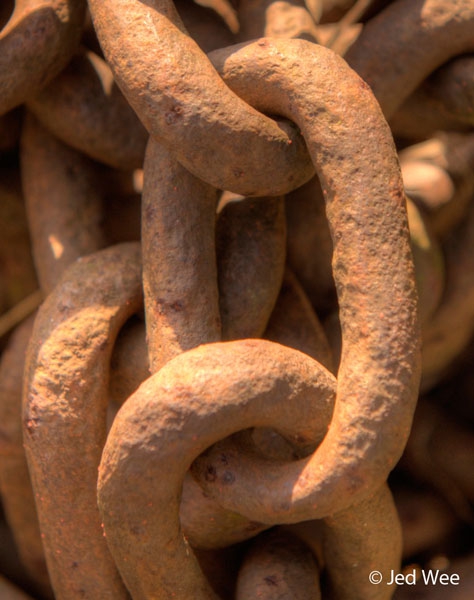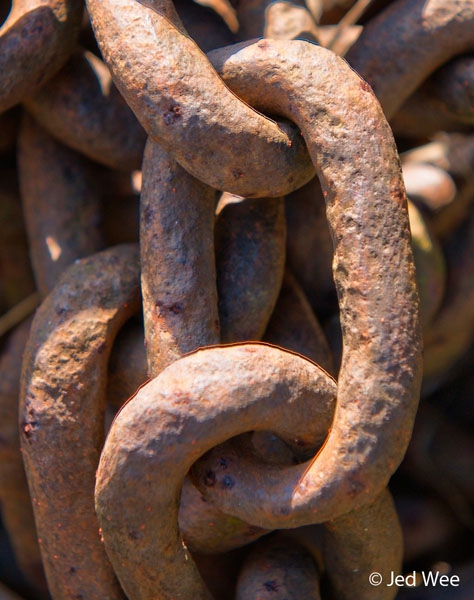 Figures 17 and 18: A hand held bracket sequence processed through Photomatix (top) and PhotoEngine (bottom). Although the PhotoEngine result is more pleasing, it exhibits clear misalignment issues that Photomatix was able to deal with.
---