Thursday, May 5, 2011
Posted by Chris Sacksteder in "Digital Home Hardware & Accessories" @ 09:00 AM
Included Software
Lastly, let's take a quick look at the software included on the disk. These things are usually worth what you paid for them, but I suppose they do help sell the product in a retail setting.
Verbatim Hard Drive Formatter
I'm not sure what this is for. After installation the installer could not launch the program ("requires elevated privileges") but it did run by launching the desktop icon. Then it said a newer version of Adobe Flash Player for Internet Explorer was required. What? Groan. Well, OK.
The program finds your Verbatim disk and gives you the choice of NTFS for FAT32, then it does a quick format. I'm not sure what use this is, other than it is slightly easier to use than the Windows 7 formatting utility.
Nero BackItUp & Burn Essentials
I installed the Nero software next (again, you'd be out of luck if you ran the formatter from the disk first!) The installer says it requires a reboot...grr! On restart, several more things were installed, plus...what a surprise...a free browser toolbar! How delightful! The program actually looks pretty good (Figure 8) and has functions to backup files and drives manually or automatically, synchronize files, and create an image recovery disk. It also offers encryption options, which is a very good thing for portable media.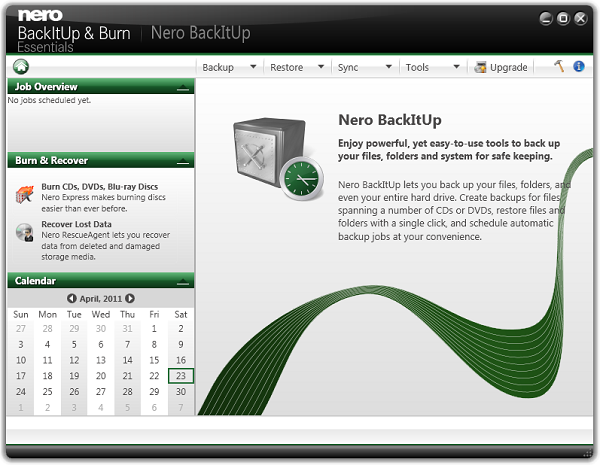 Figure 8. Nero BackItUp & Burn Essentials is fairly easy to use and comprehensive, and you even have the opportunity to pay for an upgrade to a better version.
I ran the drive backup on the test computer's C: drive, which is a similar task to the Macrium image backup benchmarked above. Macrium took about 22 minutes and made a 63GB file. The Nero tool took an incredible 2 hours and 39 minutes and made 41 files taking up 70.5GB. Unlike Macrium image files, you cannot restore individual files from the drive backup. It does support encryption while the Macrium Free Edition does not, but you can use BitLocker to secure removable disk drives if your version of Windows 7 includes that feature. Due to the glacial speed if the image backup, I was not inspired to look at other features in Nero BackItUp Essentials at this time.
Norton Online Backup
The disk drive includes a free trial of Norton Online Backup, one of many backup services that store your data for you. If you feel you really should have a copy of your irreplaceable media such as family photos and videos stored outside your house - and you should - an online service is an attractive option. However, most home Internet connections have rather slow upload speeds, and some have limits on total uploads and downloads.
The basic Norton Online service is $50 for "1 year protection for up to 5 PCs", and a limit of 25GB. That might be enough for most households' pictures and documents, but adding music and home videos would easily exceed that. Additional storage has been reported at an additional $50 for 10GB and $240 for 100GB. Dropbox is similar at $20/month for 100GB. For that kind of money you could have 3 or 4 Verbatim 500GB disk drives . . . but you'll still have to remember to routinely take one to a remote location for safe keeping.
The free 60-day trial includes 5GB of space. Launching the provided "Norton Online Backup.exe" simply sends you to their download page where you can download the real installer (5MB). The application is all browser based. I accepted the defaults (various file types in my C:UsersChris folder) and added my large C:mediapicturesphotos directory. It was quick to calculate the total number of files (7239) and size (6.07GB) and tell me it was too large. I removed the photos directory and it recalculated 1227 files and 51.26MB. I then selected "Manual (Use Back Up Now only") under the "When" tab. Once I found the Back Up Now button, it took about 4 minutes. The common usage would be to schedule that for night time. You can schedule an approximate time and it picks the exact time, so now I have one scheduled for daily at 3am. It would be interesting to see if I'm not logged on, or if the computer is asleep, whether the backup runs or not. Regardless, this kind of "trial ware" is not much of a reason to buy the Verbatim disk; anyone can download the Norton Online Backup 60-day trial.
Conclusion
If you need a small, light portable disk drive for backups or moving files, a Verbatim Store'N'Go SuperSpeed USB 3.0 is a good choice, even if you don't have USB 3.0 ports in any of your computers now. With an amazing 7 year warranty, you would have this disk for a long time and would no doubt have USB 3.0 in the near future. But don't expect 10 times the speed of a USB 2.0 disk drive; count on about twice as fast. Maybe the "10" in "10x" on the package is binary! The USB 3.0 protocol will be with us for a long time, and backup speeds will pick up as disk drives, memory, bus speeds, and processor speeds all get faster.
Chris Sacksteder is a systems developer living in central Pennsylvania. Hobbies include keeping automatic commercial skipping working on Windows 7 Media Center and doing backups, lots of backups, of the numerous computers in the house.

Do you enjoy using new hardware, software and accessories, then sharing your experience with others? Then join us on the Thoughts Media Review Team! We're looking for individuals who find it fun to test new gear and give their honest opinions about the experience. It's a volunteer role with some great perks. Interested? Then click here for more information.

---