Friday, December 11, 2009
Posted by Jason Dunn in "Digital Home Hardware & Accessories" @ 10:30 AM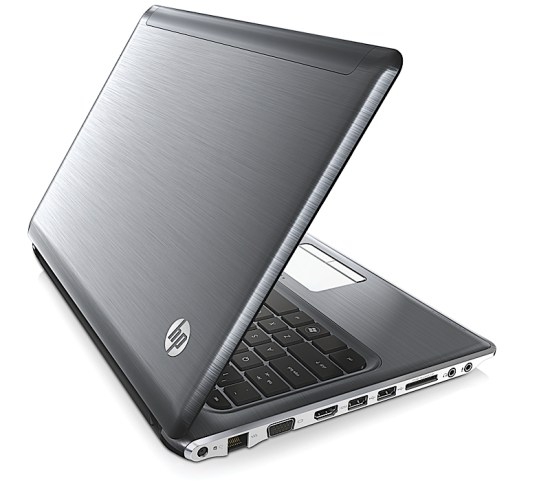 If you haven't already watched my unboxing video of the HP dm3, be sure to check that out first.
This is my two-part review video of the HP dm3 [affiliate]; the dm3 is a new laptop from HP that's an evolution of the dv2 - it's thin, light, and not very expensive. It uses the AMD Athlon Neo X2 dual-core processor, a semi-low power processor that uses 18 watts of power, but delivers better performance than the Intel Atom processors found in netbooks. This particular model has 4 GB of RAM, uses a 320 GB 7200 RPM hard drive, has a memory card reader, ethernet, 802.11 a/b/g/n WiFi, Bluetooth 2.0, four USB ports, and HDMI out. The 13.3 inch wide-screen display is 1366 x 768 pixels in resolution (driven by an ATI Radeon 3200 GPU), and it has a built-in Webcam and microphone. The keyboard is full-sized, and the laptop features Altec Lansing speakers.
The 6-cell battery is rated for up to six hours of battery life, though in my initial battery test playing back a ripped copy of the Lord of the Rings extended edition, at 100% screen brightness with WiFi off, it was down to 5% battery life after finishing the movie at 2 hours and 51 minutes. That's not a small feat though - many other notebooks I test can't finish that movie. Dropping the brightness down to the lowest setting - which makes it so dim you'd have to be in a dark room to have the screen be viewable - allows the dm3 to have 20% battery life after the LOTR test. I discuss my other battery tests in the first video, but even with my most basic of tests - the "Surf 'n Type" test at 50% brightness - I could only eek 3 hours 55 minutes from the battery. I don't know where HP is getting the six hours of battery life - my guess is minimum brightness, WiFi off, and the laptop is doing nothing - but they're not alone in an industry rife with the over-quoting the battery life. Can't the industry come up with some sort of reasonable test that they'd all use as a benchmark? Read more...
---