Monday, November 7, 2011
Posted by Richard Chao in "Digital Home Hardware & Accessories" @ 09:37 PM
"In addition to the new $249 Nook Tablet revealed this morning at a press event in New York City, Barnes & Noble announced a new price drop to $99 and a software update for the Nook Simple Touch eReader."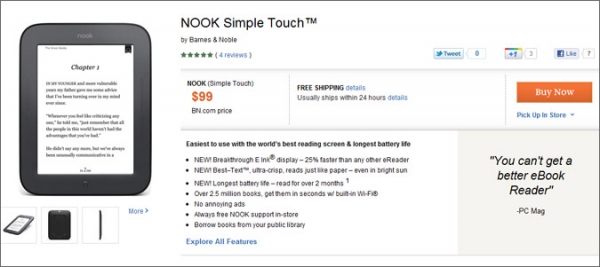 Part of the Nook Tablet announcement this morning was the release of the Nook Simple Touch E-ink reader. The Simple Touch is an updated version of the Nook Touch. It comes with an improved screen touted by Barnes and Noble as the "most advanced E-ink display" and updated software.
The Simple Touch is now available at bn.com for $99, down $40 from $139. This price drop brings the Barnes and Noble's offering in line with the ad supported Kindle Touch E-ink reader. The update is available to older Touch owners and can be found at www.nook.com/update.
---