Tuesday, September 20, 2011
Posted by Lee Yuan Sheng in "Digital Home Hardware & Accessories" @ 10:52 PM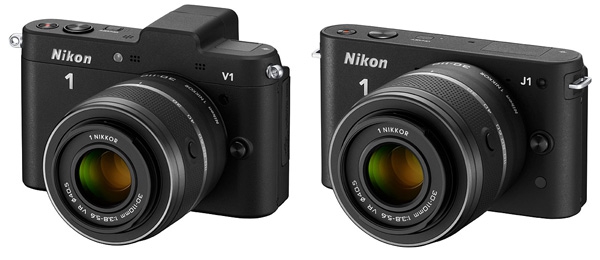 Nikon has decided to reach back into the past and use the "1" name from its Nikon One rangefinder (Nikon's first camera). While not quite the clone the original One was, the new Nikon 1 cameras are not quite the groundbreaking devices the Nikon F was either. First up, the new cameras use a new mount, dubbed CX-mount , and I assume the label will apply to the new sensor size: 13.2x8.8mm, which is about half of that of Micro Four Thirds. That will spark quite some massive disappointment among a lot of photo enthusiasts. Also not mentioned is any kind of backward compatibility with the F-mount, which means, for all intents and purposes, the 1 series will have to stand on its own with just three lenses on launch. [Correction: There is a VT1 adaptor, though without mention of price, nor is there a photo of it. It looks like the adaptor will likely work with AF-S lenses, and may not be available at launch. Thanks Marlof!] It clearly is marketed at casual shooters, with the colour options for the J1 including a very bright pink.
The J1 and V1 cameras are quite similar, with both using the same 10 megapixel CX sensor, featuring an ISO ceiling of 3200, and 1080p videos at 30 FPS. The camervtas can also do high-speed videos at up to 1200 FPS, with no mention of resolution. Both cameras will feature a 73 point hybrid AF system, which does both contrast and phase detect AF, and is claimed as the world's fastest mirrorless AF. We shall see about that. The cameras can do 10 FPS still capture, with an option of 60 FPS if AF is locked. I am going to assume this means an electronic shutter on the 1 cameras, which should mean a very quiet camera compared to the other mirrorless cameras on the market.
The V1 differs from the J1 in having an 1.4million dot EVF and an accessory port, while the J1 is slightly smaller due to lacking the EVF hump, but offers a built-in flash. The V1's accessory port is proprietary, like Sony's, so again, kiss goodbye to all your Nikon flashes and whatever hotshoe accesories you might have. Also, the LCD on the V1 is a 3" VGA LCD, while the J1 sports a 3" HVGA LCD. The V1 will ship with the 10-30/3.5-5.6 kit lens (equivalent to 27-81mm) in October for US$900, and the J1 with the same lens for US$650. Personally at those prices I really am not sure of their future. Press release after the break.
---