Monday, October 20, 2008
Posted by Jon Westfall in "Pocket PC Hardware" @ 09:00 AM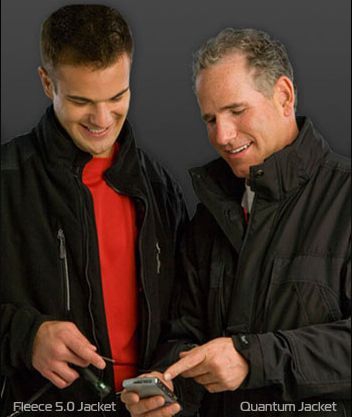 Product Category: Clothing
Manufacturer: SCOTTEVEST
Where to Buy: SeV Store
Price: $340 USD ($250 for Quantum Jacket; $140 for Fleece 5.0)
System Requirements: Body ranging from XS to XXXL Sizes
Specifications: 52 pockets, cable management through channels / pocket passthroughs, removable hood (Quantum Jacket), removable sleeves (Fleece 5.0), various specially designed features such as key holders, bottle holders, and pockets accessible from the interior or exterior.
Pros:
Be an unabashed geek without having to look like a nerd;

Attention to detail and usability;
Eliminates the need for a separate bag (some days).

Cons:
Price (for some), Sizes (for others);

Does not connect (as in previous SCOTTEVEST systems);
Lack of color options.
Summary:
The first SCOTTEVEST product I ever purchased was the 4.0 Tactical system, the closest thing to a predecessor to the Scott Jordan Signature Series. I was blown away and since then have reviewed many other SeV products. The direction foreshadowed by last year's "Evolution" jacket has now come to pass with the release of the Fleece 5.0 and Quantum Jackets (together they make up the series). But with any new thing, old favorite features can be lost or changed - and new features added can somewhat make you forget about the old. How does this system stack up to its past, and pave the way to the future? Read on!
---