Wednesday, August 18, 2010
Posted by Jason Dunn in "Digital Home Hardware & Accessories" @ 09:02 PM
"Mississauga, ON, August 19, 2010 - Nikon Canada Inc. today announced the D3100 as the newest addition to its family of quality DX-format digital SLRs. It's the world's first digital SLR to introduce full-time auto-focus (AF) in Live View and D-Movie Mode, allowing users to effortlessly achieve the critical focus needed when shooting in full HD 1080p video. The 14.2 megapixel D3100 also makes it easier than ever to step-up to digital SLR photography with its enhanced in-camera Guide Mode."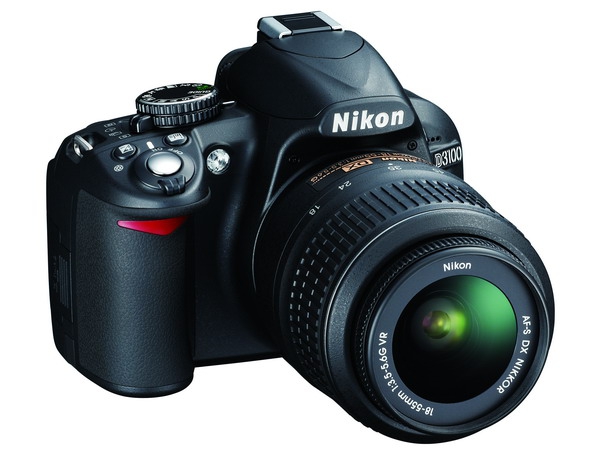 [click the image above for a high-res image of the Nikon D3100]
Readers of Digital Home Thoughts, I give you the Nikon D3100. For the first time, I've been invited to be under Nikon Canada's press embargo, which means I was given access to images and the press release early. This has allowed me to pour over the information Nikon has provided, and give it some thought.
The D3100, released about a year after the D3000, represents an significant jump forward in intro-level DSLR technology. If you watched my video review of the Nikon D5000, you'll know that my video experience with video on a DSLR was pretty much a complete failure - the lack of auto-focus made the video on the D5000 extremely hard to use. In a controlled environment - say, an interview subject that doesn't move much - it works great. But try any sort of scene with motion, and the whole thing falls apart. The D3100 is the first DSLR to introduce full-time auto-focus while shooting video. When combined with Nikon's 3D tracking, this should be a quantum leap forward in the ease-of-use department. Nikon's 3D tracking system allows you to lock onto a colour or pattern, and the focus system will track that subject as it moves through the frame as long as you keep the shutter release pressed halfway.
The 3D tracking system works pretty well most of the time - and the D3100 also brings face detection technology into the mix, allowing it to recognize and focus on up to 35 faces at once. Those three things combined should make the D3100 the first DSLR where video can be shot reasonably easily. That's a very big deal in my book - prior to the release of the D3100, I've openly told friends and family to avoid buying a DSLR for the video function because it's so hard to use. Looks like I finally have something to recommend to them! Read more...
---