Thursday, August 9, 2007
Posted by Jason Dunn in "HARDWARE" @ 07:00 AM
Unboxing the Audioengine A5's
The out-of-box experience with the A5's was pretty standard - nice packaging, and when I opened the box I saw that each speaker was in a soft bag. Nice touch to protect the speakers! Here's what's inside the box:
• AC power cable
• 1/8" audio cable, 2 meters (~6.5ft)
• (2) 1/8" audio cables, 20cm (~8")
• 1/8" to RCA "Y" adapter cable
• USB power extender cable, 1 meter (~3.28ft)
• Speaker wire (16AWG), 3.75 meters (~12.3ft)
• Detachable AC power cable
• Drawstring cable bag
• Drawstring speaker bags
• (2) High-density foam isolation pads
• Setup Guide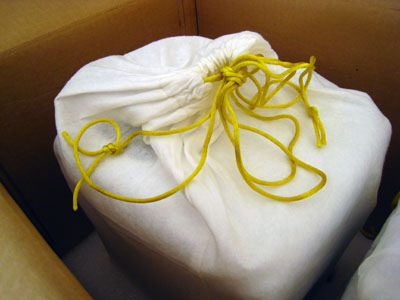 Figure 1: The speaker in a soft bag.
Exploring the Audioengine A5's
Let's explore the features of the A5's though a series of pictures, shall we?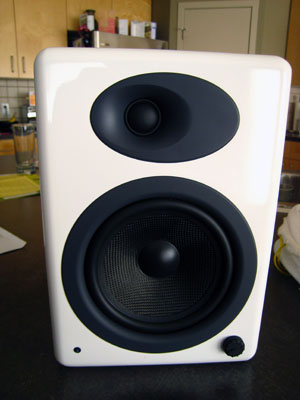 Figure 2: An A5 speaker from the front view. These speakers look great, with an attractive, modern design. I was hoping they'd send me the black ones, but this is the white model which matches up nicely with a white iPod or Zune. In the lower-left corner is the power indicator, and in the lower right is the volume knob. It would be great if the volume knob served as an on/off switch as well, but it doesn't.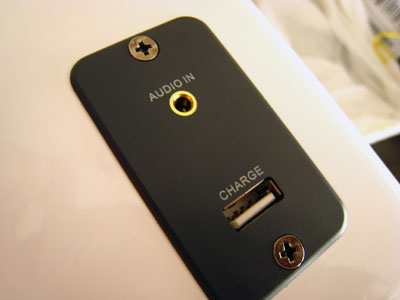 Figure 3: The top of the right-channel speaker. This is one of the reasons the A5's are so great - they added an audio-in jack, which any MP3 player can connect to, and a USB charging port which almost any device should be able to use. Heck, I recharged my smartphone using that port!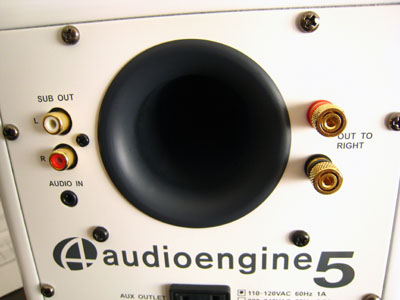 Figure 4: The back of the right-channel speaker. On the left you can see dual RCA connectors for attaching a sub-woofer, and below that there's another 3.5mm audio jack for input. At the bottom of that photo, only half shown, is an additional power outlet. This is really designed for connecting an AirPort Express.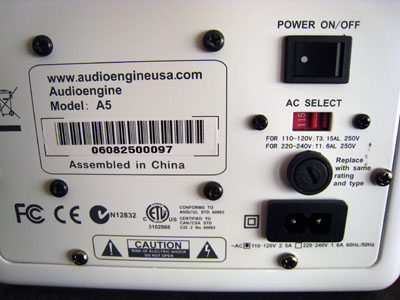 Figure 5: Standard fare here. Power connection (removable power cable, a nice touch), on-off switch, fuse, and AC selector for 110-120V and 220-240V.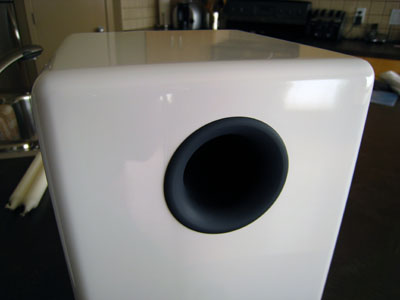 Figure 6: The woofer port on each speaker. More on this later, but man do these ever move air!
---