Friday, April 1, 2011
Posted by Philip Colmer in "Digital Home Hardware & Accessories" @ 01:00 PM
DiskStation Manager
DSM 3.1, which has just been released, provides a web interface that has been designed to look like and be operated like a desktop operating system. The approach that Synology have taken results in a system that is a delight to set up and then manage.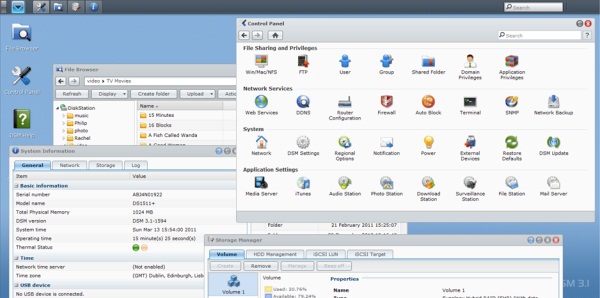 Figure 4: DSM with multiple windows open.
There is a lot of core functionality over and above that of a traditional NAS and some of these will be looked at later. I'm not going to go through every single aspect of DSM but I will focus on what I think are the key points of both DSM and the DS1511+, particularly where digital media is concerned.
In addition to the functionality provided by DSM, you can (subject to memory availability) install applications to further enhance what the box does for you. In effect, this really is a small computer that, amongst other things, is making storage available on a network interface.
The user interface is fully multi-tasking, allowing you to switch between the various windows you might have open within the web browser. Just as an example, I have enabled Audio Station which allows me to play music stored on the NAS or Internet Radio stations. The music is playing back through my laptop's speakers whilst I have the web browser connected to the NAS, but you can equally connect USB speakers to the NAS and have the music play that way. All of this carries on while I use other parts of the NAS interface.
Putting the storage into use can be as simple or as complex as you like. At the simple end, the system will create a single storage volume using all of the available drives and a format called SHR - Synology Hybrid RAID. This allows you to use drives of different sizes. The format supports data protection of one or two disk failures - the choice is yours when you set up the volume.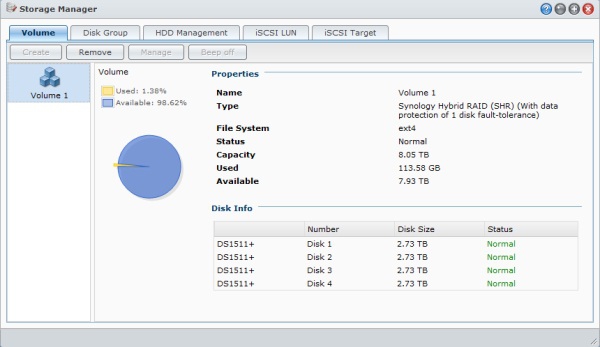 Figure 5: DSM's Storage Manager.
At the complex end, you can create multiple disk groups in different RAID types: SHR, RAID 1, 5, 5+spare, 6, 10, 0 or just a bunch of discs, using all or some of the drives. Within each disk group, you can then create one or more volumes.
Media Across the Network
As a storage server, the DS1511+ is very well positioned. It has two Gigabit Ethernet connections which you can either set up for redundant working or, if you have a network switch that is capable of supporting link aggregation, be joined together to effectively give you 2Gb throughput.
I have not done any precise measurements of the throughput but I have done heavy copying from SATA drives on my media PC to the DS1511+. Using TeraCopy, I copied the contents of four individual drives to a single volume on the DS1511+. The network throughput on the Media PC averaged around 80% of its 1Gbps connection, and TeraCopy averaged around 25MB/s per copy, giving a rough throughput of 100MB/s, or about 800Mbps, which matched up nicely with the network utilization figure.
From a protocol perspective, it is a veritable alphabet soup: CIFS, AFP, FTP, WebDAV, iSCSI, NFS. The system also supports telnet and SSH for management, and SNMP for monitoring.
Looking beyond raw file access, the unit can host up to 30 websites with PHP and MySQL, act as a DLNA media server, an iTunes server and Squeezebox server.
The DLNA functionality is, I think, particularly powerful because the system offers the facility to transcode some file formats if the renderer (e.g. your TV) cannot normally play them. These file formats are FLAC/APE, AAC, OGG and AIFF. The system supports a very wide range of file formats including DVR-MS which makes it useful for Windows Media Center and Xbox users, but unfortunately not the newer WTV file format which means you need to convert the file first before you can see it through DLNA or a remote connection in Windows Media Player. This, of course, does not apply if you are accessing the file directly through CIFS (SMB) or another file protocol.
DSM also provides functionality to act as an iTunes server and, if you have an iPhone or Android phone, you can install an application to allow you to access photos, audio and video from the DS unit directly on your phone rather than through a web browser.
---